How the International Monetary Fund Is Squeezing Pakistan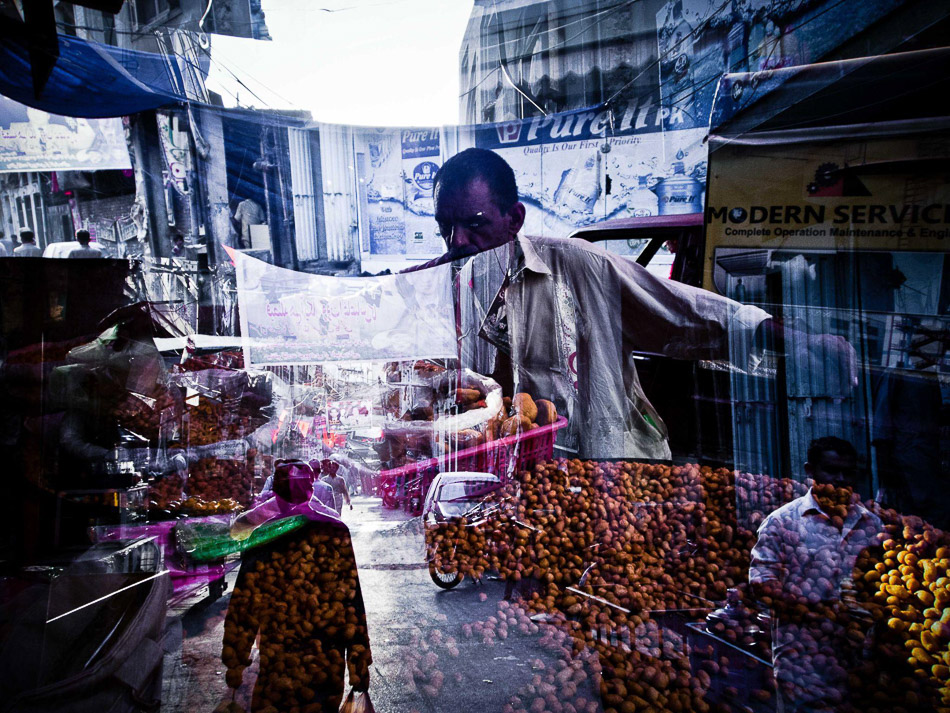 This dossier was produced in collaboration with the Research and Publications Centre (Lahore, Pakistan) and written by Taimur Rahman, associate professor of political science at the Lahore University of Management Sciences (LUMS), spokesperson of the band Laal, and general secretary of the Mazdoor Kissan Party and of the Left Democratic Front.
The photographs featured in this dossier are by Ali Abbas ('Nad E Ali'), a visual artist based in Lahore, Pakistan, whose work explores themes of alienation, belonging, and the in-between spaces that exist in all cultures. The photographs are from the series 'Hauntology of Lahore' (2017–present), borrowing the term from philosopher Jacques Derrida. In Abbas's words, 'within the very landscape of Lahore, amidst its bustling streets, ancient structures, and vibrant communities lies a reservoir of untapped futures and unrealised potential'. This dossier sheds light on that reservoir of untapped futures and unrealised potential in an economic, political, and cultural sense, not only of Pakistan, but of the oppressed people of the Third World more broadly.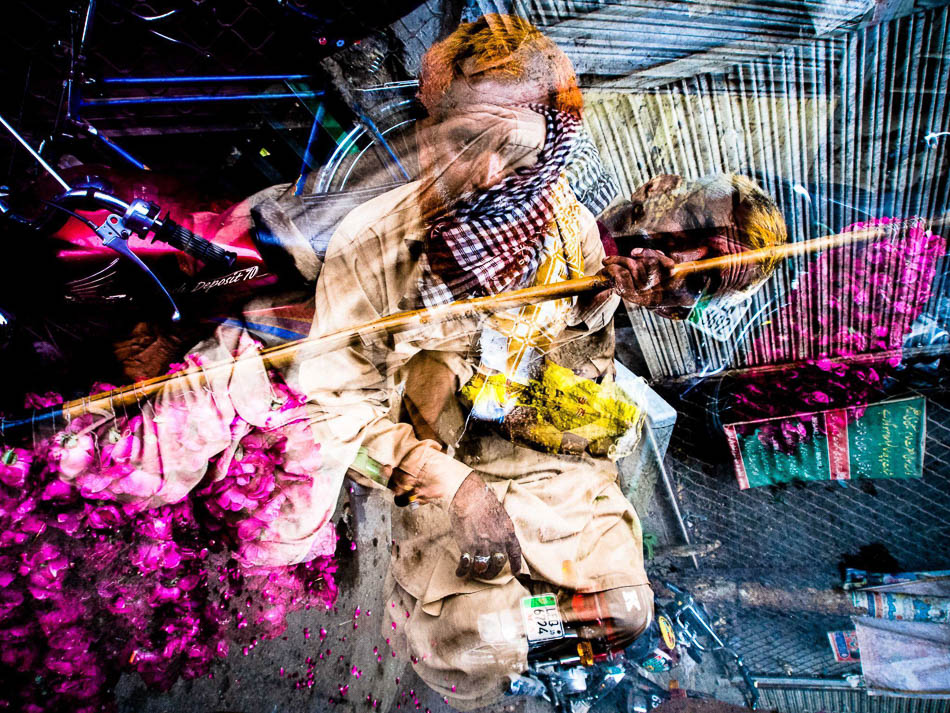 Pakistan has made international headlines repeatedly over the last year, unfortunately for almost all the wrong reasons. While the country has been associated with extremism and terrorism for over two decades, more recently Pakistan has become known for natural disasters and political upheavals. Catastrophic floods have displaced tens of millions of people while a controversial vote of no confidence in March 2022 forced Prime Minister Imran Khan and his party, Pakistan Tehreek-e-Insaf (PTI or 'Pakistan Movement for Justice'), out of office.1
Among the issues that deserve serious attention is the massive and unprecedented contraction of the country's economy. The International Monetary Fund (IMF) has projected that Pakistan's economy will grow by a mere 0.5% in 2023 and that the public will experience inflation rates upwards of 27%.2 The government's own data indicates that the Pakistani economy has only grown by about 0.29% in 2023.3 Given that Pakistan's population is increasing at a rate of 1.8%, outpacing national economic expansion, the gross domestic product (GDP) per capita will shrink.4 In simple terms, the average Pakistani is going to be significantly poorer in the coming years.
According to the World Bank, between 8.4 and 9.1 million people in Pakistan likely slipped below the poverty line in 2022 owing to the combined effects of inflation and the destruction of crops by the floods that inundated a third of Pakistan's agricultural land.5 Damages and economic losses from the floods have been estimated to exceed $30 billion, with a minimum of $16 billion needed for reconstruction.6
Pakistan's GDP Growth Rate, 1961–2023.
Prior to the floods, the COVID-19 pandemic had already caused disruptions and contractions in almost every sector of the economy. GDP growth rates fell from 6.15% in 2018 to -1.27% in 2020. The decline was driven by a sharp contraction in the services sector, particularly in wholesale and retail trade, as well as the transportation and communications sectors. The pandemic increased unemployment and poverty, as many businesses were forced to close or reduce their operations due to lockdowns and social distancing measures.8 Crucially, the pandemic exacerbated Pakistan's fiscal and external imbalances as tax revenues declined, spending on health and social protections increased, and exports and foreign remittances decreased. Owing to supply chain disruptions, hoarding, and panic buying, food prices rose and double-digit rates of inflation became the norm in 2021.
Although Pakistan recorded an impressive post-COVID-19 recovery, it was extremely short-lived. In 2023, the economy has struggled against adverse terms of trade. As the Pakistani rupee declines in relation to the US dollar, Pakistan's import bill rises, causing massive cost-push inflation (i.e., when prices rise because of increasing production costs such as wages and raw materials). Rising import bills result in higher costs for electricity, transportation, and even raw materials, which means that local industries become less competitive in the international market. As such, the value of the country's imports exceeds the value of its exports, leading to a growing current account deficit. The whole cycle repeats like the time loop in the film Groundhog Day (1993), but without a happy ending.
The current Pakistan Democratic Movement coalition government, which came to power in April 2022 after a vote of no confidence passed by a hair's breadth, is experiencing enormous economic and political difficulties. The government has delayed provincial elections in defiance of rulings by Pakistan's Supreme Court that such decisions were unconstitutional. Meanwhile, breadlines are growing longer, and desperately poor people have been crushed in stampedes at flour distribution centres.9
In sum, things are a mess. Why is this all happening?
Some allege that Russia's Vladimir Putin and China's Xi Jinping are to blame for Pakistan's troubles.10 Although it strains credulity, according to this train of thought, the war in Ukraine and Chinese loans are responsible for the country's debt problems. As US State Department Counsellor Derek Chollet put it during a February 2023 visit to Islamabad, 'We have been very clear about our concerns not just here in Pakistan, but elsewhere all around the world about Chinese debt, or debt owed to China'.11
This line of thinking is flawed in three key aspects. First, the balance of Pakistan's trade deficit, which causes the government to ask for loans, long predates the war in Ukraine. Second, while China holds about 30% of Pakistan's foreign debt, most of this debt is in the form of project loans connected to the China-Pakistan Economic Corridor (CPEC), part of the Belt and Road Initiative. In other words, this debt goes directly to improving the country's infrastructure and prospects for economic development.12 Most importantly, China has not dictated any specific economic model or policy to Pakistan. This is a sharp contrast to Pakistan's long history of following IMF recommendations: in the 76 years since its independence, Pakistan has entered into 23 agreements with the IMF – that is, on average, an agreement every three years. Moreover, the present austerity measures that have cause electricity, fuel, and gas prices to skyrocket were recommended by the IMF.13
In 1995, Pakistan joined the World Trade Organisation (WTO), and the country's average import tariffs decreased from 45% to 8.6%.14 For the last 20 years, foreign imports have been flooding the local market, and the new consumption economy that emerged from 2003 onwards has witnessed a severely declining balance of trade.15 Pakistan's balance of payments problems have long been managed by the country's main 'export' – its geostrategic value to Washington. When the United States invaded Afghanistan in 2001, it needed Pakistan's support, and so it removed its economic sanctions against the country and provided it with economic, security, and military aid. In the same period, owing to Pakistan's strategic importance in the 'War on Terror', the Paris Club rescheduled $12.5 billion out of the total of $13.5 billion of the debt that Pakistan owed to it.16 In addition, it also granted the country trade concessions.17 It was almost as if Pakistan had received a clean slate and could start all over again. But this was not to last.
From 2004 onwards, Pakistan's imports began to outstrip its exports.18 To some extent, this was mitigated by workers' remittances from abroad. However, between 2015 and 2018, Pakistan's current account deficits skyrocketed from $2.8 billion to $18 billion.19 This predated the Ukraine war – the pretext used to divert attention away from facts and instead contribute to the New Cold War against China and Russia – and had little to do with CPEC. Rather, this deficit was driven by the fact that Pakistan is no longer competitive in the international market and has continued to import goods and services at a rate that it simply cannot afford.
Pakistan struggles to compete in the international market not because labour costs are too high, but because, despite receiving export promotion benefits, textile exporters have been unable to enhance labour productivity over the last four decades.20 There has been no serious effort either in the public or private sector to improve the country's technological infrastructure. As a result, over time, countries such as Bangladesh, China, and Vietnam have surpassed Pakistan in textile productivity and exports.
At the same time, the voracious appetite for imported luxury goods has become so high that Pakistan's trade deficit now stands at $42 billion, about $30 billion of which is paid for by workers' remittances.21 The country's economy is transforming from one that primarily exported cotton and cotton-related products during the Green Revolution in the 1960s and 1970s to a country that is increasingly exporting mainly its workforce and labour power.
---
This publication is issued under a Creative Commons Attribution-NonCommercial 4.0 International (CC BY-NC 4.0) license. The human-readable summary of the license is available at https://creativecommons.org/licenses/by-nc/4.0/.